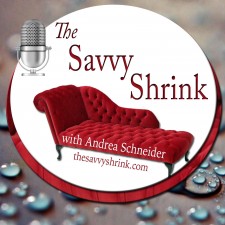 The Savvy Shrink hosted by Andrea Schneider MSW, LCSW, interviews leading experts in the field of trauma, narcissistic abuse, and maternal mental health.
WAYNESVILLE, N.C., November 1, 2018 (Newswire.com) - The Savvy Shrink joins Mental Health News Radio Network as one of its thirty-six podcasts dedicated to mental and behavioral health and well-being.
Savvy Shrink host Andrea Schneider brings professional and personal experience to the show; work with children in a domestic violence shelter led to training as a therapist and, more recently, in trauma-informed EMDR. She has worked with families and clients of all ages. In her practice, she assists a wide range of people healing from trauma and loss at different life cycle transitions, and those in the aftermath of toxic relationships.
The Savvy Shrink is designed for listeners who are working on recovering from trauma in its many forms. Focusing on relational trauma (e.g., healing from toxic relationships in love, work and/or family). Topics such as women's and men's mental health, perinatal depression and anxiety, perinatal loss, infertility, and traumatic birth are also covered. Other topics include mass shootings and the difference between autism spectrum disorders and psychopathy.
Schneider said, "Podcasting is great because you get to interview top experts in the field, and they give voice to really amazing interventions, laws, policies, studies and other forms of education to help people heal from trauma. I am honored to hold a space for that thoughtful dialogue to take place. I envision the show continuing to include speakers who do trauma-informed work... I'd like to particularly focus on neuroscience and the recent clinical studies that are coming out on how people heal with trauma-informed modalities. I also really enjoy talking about social justice related topics and supporting under-served and disadvantaged populations."
The show first aired in September 2017. Recent episodes include: Get into the nuts and bolts of healing after narcissistic abuse (August 31, 2018), "Trauma-informed approaches to healing from relational trauma (July 25, 2018) and "Community Art Therapy in social justice and political discourse" (September 5, 2018). Episodes are available via iTunes, Spreaker, Stitcher and Apple TV.
About Mental Health News Radio Network
Mental Health News Radio Network hosts over 30 podcasts covering all aspects of mental and behavioral health and well-being. Its mission is to combat mental health stigma through advocacy, education, and dialogue. MHNR Network podcasters run the gamut from leading mental health professionals and coaches to peer specialists and addiction recovery advocates. To date, MHNR Network has aired over 10,000 episodes and has listeners in over 170 countries. It is the world's largest podcast network dedicated solely to mental health and well-being content.
Contacts
To book MHNR Network podcasters or CEO for your media outlet: info@mhnrnetwork.com
For all PR inquiries contact Ryan McCormick via our PR Team: Ryan@goldmanmccormick.com
Twitter: @MHNRNetwork
Instagram: @MHNRNetwork
Facebook: Mental Health News Radio Network
Source: Mental Health News Radio Network