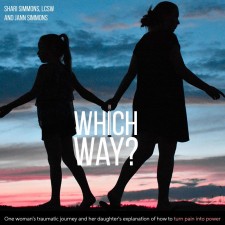 WAYNESVILLE, N.C., March 17, 2019 (Newswire.com) - As a therapist with nearly three decades of experience and over seven years as a graduate teacher of psychology and social work, Shari Simmons, MSW, LCSW, co-hosts new podcast Which Way? with her mother Jann Simmons. Together, they share their story of generational healing.
Jann Simmons suffered horrific abuse at the hands of her mother and the orphanage she was ultimately placed in. As an adult, her brain helped to protect her by shoving down her childhood memories to the point that she convinced herself they didn't exist. After years of emotional and health issues she didn't understand, she made the difficult but redemptive decision to get help, uncover the horror of her past and heal. In doing so, she found her voice and her power.
Shari's mom's story is tragic but also one of courage, strength and resiliency.  This story as well as Shari's work as a therapist and teacher led to their collective work as authors, speakers and advocates.
Shari and Jann continue this work in the podcast medium with Which Way?, a new show on Mental Health News Radio Network. Which Way? is aimed at listeners interested in the complexity of relationships among family members, generational issues that are passed down and the real-life emotions that exist as a result. Shari and her mother want to shine a light on the issues that society either stigmatizes or brushes under the carpet.
Shari emphasizes, "What most people don't understand about mental health and trauma is that we are all exposed to it. To the brain … trauma is trauma,  whether we have lived through traumatic events in our lives, have heard someone talk about something traumatic they have gone through or turn on the news and see disturbing pictures of the latest tragedy. Initially, our brain takes that in as a trauma. It can't tell the difference. What that means is that we are all walking around with trauma in our lives and often live in our limbic brains as a result. When we are in that part of our brain, we can't access our thoughts and language. Our behavior becomes our language and this often negatively affects our relationships. In our podcast, we hope to look at the human experience and discuss the importance of taking a path that allows us to heal, evolve and thrive.
The Which Way? podcast is about making a decision to follow the harder path of healing but the one that ultimately leads to peace and happiness. Shari and Jann will be talking to the warriors who have experienced trauma and the experts who plant seeds of hope.
Which Way? will focus on a wide range of topics such as being parents of trans-gendered youth, familial relationships, grief/loss, mental health, domestic violence and abuse/neglect. The show has a scheduled lineup of guests with experience or expertise in all of these topics.
About Mental Health News Radio Network
Mental Health News Radio Network hosts over 30 podcasts covering all aspects of mental and behavioral health and well-being. Its mission is to combat mental health stigma through advocacy, education and dialogue. MHNR Network podcasters run the gamut from leading mental health professionals and coaches to peer specialists and addiction recovery advocates. To date, MHNR Network has aired over 10,000 episodes and has listeners in over 170 countries. It is the world's largest podcast network dedicated solely to mental health and well-being content.
Contacts:
To book MHNR Network podcasters or CEO for media outlets: info@mhnrnetwork.com
For all PR enquiries, contact Ryan McCormick via our PR Team: Ryan@goldmanmccormick.com
Twitter: @MHNRNetwork
Instagram: @MHNRNetwork
Source: Mental Health News Radio Network
Share: