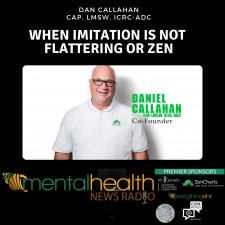 WAYNESVILLE, N.C., January 30, 2019 (Newswire.com) - Mental Health News Radio Network is proud to announce EHR provider ZenCharts as one of its key sponsors. ZenCharts was conceived by Dan Callahan, a licensed social worker and treatment center owner with over 30 years of clinical experience, and his son Sean. It provides an intelligent EHR that makes paperwork easier and more efficient for behavioral health care clinicians. It has since evolved into a cutting edge resource using proprietary technology that automates work flows, creates triggers and alerts and customizes forms with a drag and drop interface to streamline the entire electronic health record keeping process. ZenCharts' entire professional services team consists of industry experts including clinicians, admissions and medical professionals.
ZenCharts was one of Mental Health News Radio Network's first official sponsors. Both organizations share a mission to serve the mental and behavioral health community.
ZenCharts Chief Marketing Officer Blake House said, "It was a natural fit. We needed to reach the behavioral health industry and Kristin was reaching our target market. In addition to that, we liked Kristin's values and approach." Mental Health News Radio Network CEO Kristin Sunanta Walker has over 20 years of experience in the behavioral health field and also helms Everything EHR, a behavioral health consulting firm. She said, "ZenCharts has the most beautiful and user-friendly user interface of any EHR on the market in or outside of behavioral health." ZenCharts is so easy to use. It's simple, clean and intuitive. They understand how important all data is as it relates to program goals, effectiveness, and insurance reimbursement." ZenCharts plays a major role in supporting Mental Health News Radio Network to share innovative mental health and well-being content across the globe.
About Mental Health News Radio Network
Mental Health News Radio Network hosts over 40 podcasts covering all aspects of mental and behavioral health and well-being. Its mission is to provide advocacy, education and dialogue about Mental Health and Mental Illness. MHNR Network podcasters run the gamut from leading mental health professionals and coaches to peer specialists and addiction recovery advocates. To date, MHNR Network has listeners in over 170 countries.
https://www.mentalhealthnewsradionetwork.com/when-imitation-is-not-flattering-or-zen
Contacts
To book MHNR Network podcasters or CEO for your media outlet: info@mhnrnetwork.com.
For all PR inquiries contact Ryan McCormick via our PR Team: Ryan@goldmanmccormick.com
Twitter: @MHNRNetwork
Instagram: @MHNRNetwork
Facebook: Mental Health News Radio Network
Source: Mental Health News Radio Network
Share: