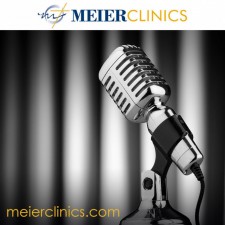 WAYNESVILLE, N.C., April 3, 2019 (Newswire.com) - Clinical psychologist, nurse and Meier Clinics Director of Outpatient Services for 20 years, Dr. Lisa Day has assumed co-hosting duties on the relaunched Mental Health News Radio Network show Meier Clinics Podcast, formerly The Clinical Christian. She joins nationally recognized psychiatrist and international guest speaker Dr. Paul Meier to interview a wide range of people with personal and professional experience in mental health, addiction and Christianity.
The Meier Clinics Podcast aims to bring increased understanding, useful tools and therapeutic resources to a wider audience. It condenses over two decades of Dr. Day's study, work, experience and research into an accessible format for adults, college students and adolescents who are or who have family members dealing with challenges as they relate to mental health and wellness. The podcast not only gives people new to The Meier Clinics the opportunity to discover their work, but it also helps existing clients to add to their growth and knowledge and to refer friends and family in need of help and support.
Dr. Day said, "I teach every day in my clinic practice and a consistent question is 'Where can I get this information?'"
Dr. Lisa Day brings extensive expertise to Meier Clinics Podcast. She is a registered nurse and also holds a Ph.D. in behavioral medicine and clinical psychology. She has been in practice for 25 years and has worked with The Meier Clinics since she graduated and was licensed as a clinical psychologist in 1993. For the past five years, she has worked at The Meier Clinics' satellite clinic in Sun Valley, Idaho. Dr. Day has a lifelong passion for the interplay between psychological and physical health. She works primarily with adults and adolescents over 16 and she is an expert in boundaries, ADHD, mood disorders, psychotropic medication, treatment-resistant mood disorders, grieving and forgiveness.
Episodes of The Meier Clinics Podcast air weekly. Recent episodes include: Growing Up with a Narcissistic Mother and Boundaries: How to Be Me without Losing You.
About Mental Health News Radio Network
Mental Health News Radio Network hosts over 30 podcasts covering all aspects of mental and behavioral health and well-being. Its mission is to combat mental health stigma through advocacy, education and dialogue. MHNR Network podcasters run the gamut from leading mental health professionals and coaches to peer specialists and addiction recovery advocates. To date, MHNR Network has aired over 10,000 episodes and has listeners in over 170 countries. It is the world's largest podcast network dedicated solely to mental health and well-being content.
Contacts
To book MHNR Network podcasters or CEO for media outlets: info@mhnrnetwork.com.
For all PR inquiries, contact Ryan McCormick via our PR Team: Ryan@goldmanmccormick.com.
Twitter: @MHNRNetwork
Instagram: @MHNRNetwork
Facebook: Mental Health News Radio Network
Source: Mental Health News Radio Network
Share: