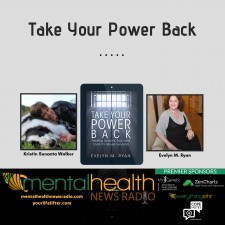 New Take Your Power Back segment on Mental Health News Radio is hosted by abuse recovery expert and certified life coach Evelyn Ryan.
WAYNESVILLE, N.C., February 9, 2019 (Newswire.com) - The Mental Health New Radio podcast, part of Mental Health News Radio Network, is proud to announce its latest co-host, Evelyn Ryan. Ryan is a certified life and career coach, abuse recovery expert and best-selling author of "Take Your Power Back: Healing Lessons, Tips, and Tools for Abuse Survivors." In addition, Ryan's online healing community, YourLifeLifter, reaches over ten thousand abuse survivors from forty-five countries around the world. YourLifeLifter is an information and coaching hub promoting emotional health, with a focus on narcissistic abuse recovery. It provides access to over a hundred articles and thousands of posts by Ryan. This content makes lessons learned by Ryan and other survivors of abuse available in multiple formats.
Ryan's Take Back Your Power segment on Mental Health News Radio, which she co-hosts with Kristin Sunanta Walker, brings her experience of and advice on healing from narcissistic abuse to MHNR listeners. Recent segment topics include: Signs You're Dealing with a Narcissistic "Healer," Therapist or Guru and The Toxic Tango between Empaths and Narcissists.
Ryan's vision for her podcasting venture she shared is, "to reach more abuse survivors in more countries with healing truth through collaboration with Kristin and other healers and survivors, become the most listened to podcast on the network, and to inspire others to do the same."
She said, "we share healing truth from a core of compassion and empathy and a focus on facilitating healing by empowering abuse survivors to tap into their own healing power."
Mental Health News Radio, one of over thirty-five mental health and wellbeing focused podcasts on Mental Health News Radio, provides in-depth and honest dialogue, advocacy and education on all aspects of mental and behavioral health. Its mission includes combating stigma against mental health.
Take Back Your Power aims to further this mission by sharing tips and tools for abuse survivors through a lens of compassion, to empower them to tap into their own healing abilities.
Episodes of Take Back Your Power air weekly. They are available on Mental Health News Radio Network via Stitcher, Spreaker and Apple Podcasts.
About Mental Health News Radio Network
Mental Health News Radio Network hosts over 30 podcasts covering all aspects of mental and behavioral health and well-being. Its mission is to combat mental health stigma through advocacy, education and dialogue. MHNR Network podcasters run the gamut from leading mental health professionals and coaches to peer specialists and addiction recovery advocates. To date, MHNR Network has aired over 10,000 episodes and has listeners in over 170 countries. It is the world's largest podcast network dedicated solely to mental health and well-being content.
 Contacts
To book MHNR Network podcasters or CEO for your media outlet: info@mhnrnetwork.com
For all PR enquiries contact Ryan McCormick via our PR Team: Ryan@goldmanmccormick.com
Twitter: @MHNRNetwork
Instagram: @MHNRNetwork
Source: Mental Health News Radio Network
Share: